THE BIRTH OF A LEGENDARY BOOZER. THE RAVEN, HAMMERSMITH, LONDON W6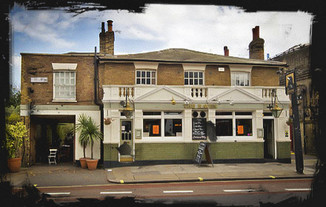 The Raven for years, has been inconsistent, but brilliant. Run by a local crusty, then Aussies, then Kiwis (I think) and now the current regime is Irish, which always helps. Especially as my surname is Hennegan, to be sure, to be sure.
The building dates back to the 1830's when it was a stable block and its current layout reflects this. It served the one-time Ravenscourt Manor, pulled down after bomb damage in the Blitz, apparently.
They also, intriguingly but illogically, have a book of birth records from the nearby Queen Charlotte Maternity Hospitalbehind the bar! The old hospital is now flats and I'm still not sure how the written records ended up behind the bar, but you get the occasional squeak of delight when someone finds their name whilst waiting for their Guinness to settle. There are also some famous births recorded apparently, including Steve Jones of the Sex Pistols, Zak Starkey, Daniel Radcliffe, Emily Franke, Mischa Barton and Dame Helen Mirren!
The glory of the Raven in 2021, like many pubs, is its management, who appreciate what a local pub should be. It is run by an independent pub group, which is usually very cool. But in this case the indies have seen what a great job the local management have done and put up the prices a bit.
But. Go. Do it. It's not fussy or frilly and often gets noisy and boisterous during busy times. But I had a great conversation one night with a 25 year old Irish builder who was a fan of Brendan Behan and after too many pints of Guinness started quoting W.B Yeats. It's opposite Stamford Brook tube station and it gets packed on Friday nights, when they have live music. It's a fairly small pub and they show sport, but they have a small, tidy garden and a back room with wide clean tables for creative laptops and iPads.
There's a lot to recommend it, apart from the high(ish) Beer prices. But The Raven has one Killer Feature. I think unique in all of London and perhaps because of its more relaxed management, I have NEVER been told to drink up and leave at the end of the night! If you are from other parts of the UK, or even the world, this might seem strange, but let me tell you brethren – London pubs for years have been TERRIBLE when it comes to drinking up and getting you out at the end of the night. 20 minutes after closing and you're in the street. Terrible. The irony is that nowadays, since the 1997 Labour Government did away with the 1914 licensing laws that only allowed 20 minutes 'drinking up time', there is now no legal reason why we have to "drink up now!" And that is the BRILLIANCE of the current management. I think they appreciate our business! Of course, stashing 5 pints on the last bell might earn you a rebuff, but I'm not even sure about that! If you're on a writing roll at the end of the night, the Raven rocks. It's calm and quiet and they accept no-nonsense, but we writers are not going to extract the urine, as we say.
The location is great too, on the Chiswick/Hammersmith border, more or less opposite Stamford Brook Tube station.
So a good bo-ho place to create, apart from Friday nights. Although if you like live music, leave the laptop at home and rock up for a live and lively Friday night music session. They do good food until 10pm most nights too.
Nearest Tube – Stamford Brook.
🍷🍷🍷🍷 🍷 Almost Bo-ho Heaven. Live. there. That is all.